Celebration of life for Brian Davis on Nov. 8th
Joint Council 28 Mourns the Loss of Brian Davis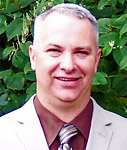 We are saddened to inform you that Teamster Local 174 Business Agent and Joint Council 28 Freight Director Brian Davis tragically passed away on Sunday October 19, 2014.
We have known Brian for almost 20 years as an activist, shop steward and business agent within Local 174. He was more than our colleague he was a dear friend and family member of our Union. Brian was very charismatic, optimistic and championed the cause of labor and our members' rights at every turn. The impact that he had on all those who had a chance to meet and spend time with him will never be forgotten.
We appreciate all the messages of condolence that have already come into Local 174. Please keep Brian and his loved ones in your thoughts and prayers.
Teamsters Reach Tentative Agreement with Fred Meyer Over Grocery Warehouse Contract
Teamsters Local 117 has achieved a fully-recommended tentative agreement with Fred Meyer over a contract involving 388 warehouse workers employed at the company's grocery distribution center in Puyallup. The Union and the Company reached the agreement late Monday night with the assistance of a federal mediator.
— Read more.
Boeing Response
By Rick Hicks, President
Joint Council No. 28
When I first learned of the ill-conceived comments Wednesday made by the CEO of Boeing, Jim McNerney, I had to pause as I could not believe someone in his capacity could have made such demeaning comments about arguably the best work force in the Aerospace Industry yet alone his own employees. — Read more.
Find Locals
JC 28 has twelve Teamster Locals in Alaska, Northern Idaho and Washington. Find yours.
Locals
Political Action
Running for office? Find out what's happening in Olympia. All the things you want to know.
Olympia
Go Union
Want collective bargaining rights and negotiating power with your employer? Become a Teamster!
Join